NALTREXONE 1000 MG SYRINGE
opioid dependency, alcohol dependency, opioid addiction
Description
hydrochloride tablets, USP, an opioid antagonist, is a synthetic congener of oxymorphone with no opioid agonist properties.
differs in structure from oxymorphone in that the methyl group on the nitrogen atom is replaced by a cyclopropylmethyl group.  hydrochloride is also related to the potent opioid antagonist, naloxone, or n-allylnoroxymorphone.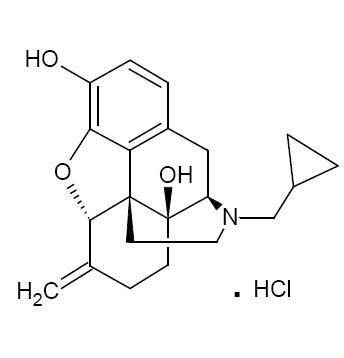 is a white or almost white powder. The hydrochloride salt is freely soluble in water. Naltrexone hydrochloride tablets, USP are available as film-coated tablets containing 50 mg of Naltrexone hydrochloride.
Tablets, USP also contain lactose monohydrate, hypromellose, magnesium stearate, polyethylene glycol, titanium dioxide, colloidal silicon dioxide, hydroxypropyl cellulose, yellow ferric oxide, and red ferric oxide.
Indications and Usage
 Tablets and USP are indicated in the treatment of alcohol dependence and for the blockade of the effects of exogenously administered opioids.
 Tablets, and USP have not been shown to provide any therapeutic benefit except as part of an appropriate plan of management for the addictions.
Contraindications
Patients receiving opioid analgesics.
Patients currently dependent on opioids, including those currently maintained on opiate agonists (e.g., methadone) or partial agonists (e.g., buprenorphine).
Patients in acute opioid withdrawal
Any individual who has failed the naloxone challenge test or who has a positive urine screen for opioids.
Any individual with a history of sensitivity to Naltrexone hydrochloride or any other components of this product. It is not known if there is any cross-sensitivity with naloxone or phenanthrene-containing opioids.
Overdosage
There is limited clinical experience with Naltrexone hydrochloride overdosage in humans. In one study, subjects who received 800 mg daily for up to one week showed no evidence of toxicity.
In the mouse, rat, and guinea pig, the oral LD50s were 1,100 to 1,550 mg/kg; 1,450 mg/kg; and 1,490 mg/kg; respectively. High doses of Naltrexone hydrochloride (generally ≥ 1,000 mg/kg) produced salivation, depression/reduced activity, tremors, and convulsions. Mortalities in animals due to high-dose Naltrexone hydrochloride administration usually were due to clonic-tonic convulsions and/or respiratory failure.
Treatment of Overdosage
In view of the lack of actual experience in the treatment of overdose, patients should be treated symptomatically in a closely supervised environment. Physicians should contact a poison control center for the most up-to-date information.