All Best Baby & Child Shower Products by Gardenia Pharmacy
Baby & Child Shower Products
Our long experience in Mom&Baby Products, can learn you more about from our review for infants and kids with the ideal baby products in Egypt
You can keep those little toes, fingers and hair very clean with Gardenia Full range of baby shampoos and body washes
we appreciate your feedback on our baby product links
The Ideal  baby smell is so important, You just hope you could bottle it up?
The Good news: it is already been done.
Actually the truth that, there's no shortage of shampoo and body-wash created specially for baby with safe ingredients to keep always your baby's delicate skin hydrated and super clean.
From little finger-painting sessions to the messy mealtimes, all it takes is a good scrub-a-tik-tok to clean our little ones up.
How to Choose The Right Baby Body-Wash & Shampoo
Do not use highly Fragrances products ( may cause allergy )
Avoid products with Harsh chemicals ( Parabens, phthalates and sulfates )
Of-course choosing tear free formulas is a good option for your baby eyes
Try MUSTELA DERMO CLINSING 500 ML + MUSTELA BABY SHAMPOO 200ML
If you think this content is helpful? Let our editors know!
Mild  Shampoo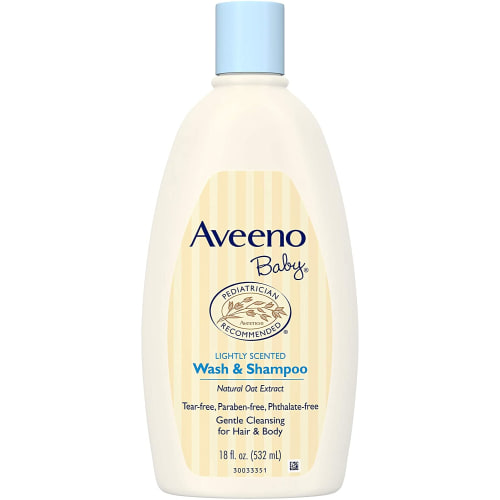 Aveeno Baby Wash and Shampoo
150.00 LE
This formula for Aveeno is
Soap-free: check.
Tear-free: check.
Hypoallergenic: check.
Delightful scent that all mom loves: check.
A mild cleanser that's specially great for any sensitive skin (parents of kiddos with eczema give it positive reviews).
Also, the oat extract is what sets it apart from other baby cleansers; combined with naturally moisturizing ingredient that won't dry out baby skin even by winter months.
Also, a cupful under running water creates a good batch of bubbles.
It comes in 300-ml. bottle, so it'll last through lots of baths.
No Rinse Needed by Mustela
Mustela Foam SHAMPOO FOR NEWBORNS
239.00 LE
Mustela gently cleans your little one's hair and body without stripping away natural oils.
This no-rinse, newborn-safe micellar water uses
natural ingredients like vitamin B5 and avocado perseose,
a rare molecule found in the heart of avocados that hydrates and keeps the skin's cellular richness in tip-top shape.
Since there's no rinsing or scrubbing involved, it's perfect for travel, in between baths or just a quick clean up.
Plus, it's paraben, phthalate and phenoxyethanol free and smells AH-mazing.
Note: Their Mustela Foam Shampoo for Newborns is a must-have if your little one has cradle cap
Soothing Bar Soap
Baby & Child Shower Products
Active babies need a good night's sleep, and that starts with bath time! Keep night time calm and cozy by using JOHNSON'S Sleep Time Soap.
Clinically proven mildness
Gently cleanses delicate baby skin
Routine clinically proven to help baby sleep better
Free from parabens and dyes
Hypoallergenic & pH balanced
Paediatrician and dermatologist-tested
Read .. How to Stop Diaper Rash to Happen again to your BABY
Safe and Supportive
Cantu Care for Kids Tear-Free Nourishing Shampoo
140.00 LE
Cantu® Nourishing Shampoo Care For Kids.
New! Infuses curls with moisture. No sulfates silicone parabens & mineral oil.
Gentle tear-free formula cleanses and promotes healthy hair growth with the perfect blend of pure shea butter, coconut oil and honey formulated without harsh substances.
Note: Also Cantu care for kids Nourishing Conditioner that adds moisture and manageability to your curly kid's mane. Honored in 2015 as Naturally Curly product in many baby-beauty magazines.
CANTU CARE FOR KIDS CREAM 227GM
Buy All Cantu Products .. Click Here
MoM's Recommended
Suave Surf's Up Kids 2 in 1 Shampoo and Conditioner
135.00 LE
Baby & Child Shower Products
Suave Kids® wants to make bath time fun again with playful kids shampoo, conditioner, and body wash products that will leave your little one happy and clean.
2-in-1 kids shampoo, conditioner and body wash formula cleanses both hair and skin for an easy, full body clean.
Cleanses skin while leaving hair smooth and fresh.
Leaves skin and hair with the fresh scent of peaches.
Tear-free and dermatologist-tested.
Buy Suave Watermelon smells great and makes grooming fun
GET Suave Strawberry 
Buy Suave Free & Gentle Body wash
Buy Suave Kids Coconut Shampoo & Conditioner
Baby Food and Cereals by Gardenia Pharmacy | Best Egypt Pharmacy